Excellent Example Of Focused Lead Capture
By Duncan Carver – In Association With SubmitEdge –
The popular website UpWorthy.com is one of the best examples of focused lead capture that I've come across in a long time. If your primary goal is to capture leads from your own website – either via email, or by encouraging social media followers, it's worth spending some time checking out their website and how well it's structured towards this end goal.
And with 1.5 million Facebook followers at the time of this writing (and a compete.com estimate of 2.25 million monthly unique visitors) it's hard to say they're not doing something right.
It's almost entirely focused on capturing leads and driving social media engagement.
(Keep in mind this is all based on the time of this writing. Things can and do change, so I've taken screen shots and present them below to ensure what I'm explaining here makes sense now and in the future).
Let's take a look at what they're doing and see how you might be able to integrate some of these components into your own design structure to build bigger mailing lists and social media followings…
The Home Page ->
The first thing you'll notice on the home page is the big lead capture unit at the top of the page…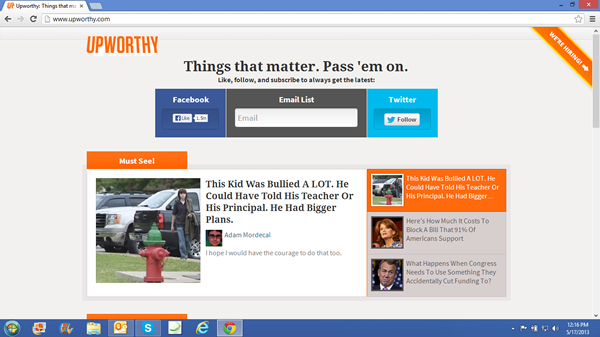 It's the first thing visitors see and it presents them with three options to keep in touch.
Liking them on FaceBook, joining their email list, or following them on Twitter. You just can't miss it, and it does a good job of allowing the visitor to keep in touch via their most preferred medium too (or multiple mediums should they wish).
This is followed by the primary website content (the featured content of the day), and assuming the visitor makes it to the bottom of the page (without even checking out any content), they are again presented with an email lead capture form at the bottom…
"I want more stuff like this!"…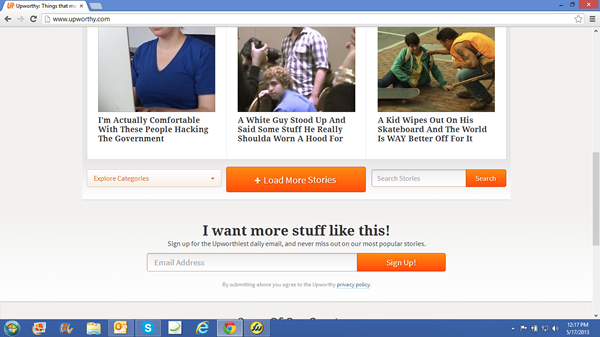 Now let's look what happens when you visit one of their content pages (the first click a visitor is likely to make after arriving at their website and selecting a story that interests them)…
Content Page Popup ->
The first thing that happens is a light box popup window.
Now this is a very interesting popup.
It's not an email lead capture popup in the sense that most people incorporate one – simply asking people to subscribe to an email list. It's an interactive question – more like a quick survey, that requires the user to select "I Agree" or "I Disagree" with the following statement…
"I Support Equality For All"
This statement in itself is very interesting as it really encourages a one sided response (agreement with the statement) from most people anyway. After all, you'd have to be a pretty sad person to disagree with such a statement…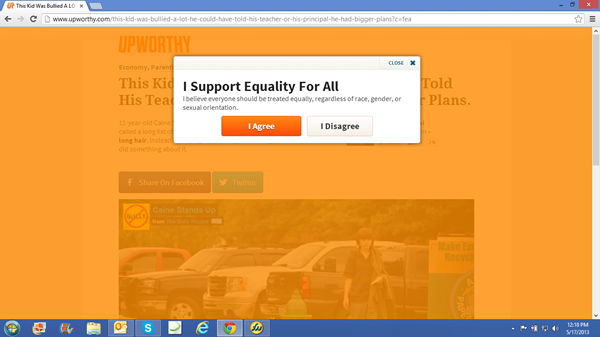 If a visitor doesn't actually agree with the statement (they click the "I disagree" button), then the light box closes and the user is simply shown the content page they've initially expressed interest in (more on that soon).
However, if they do agree with the statement (and most people would) they are then presented with an actual optin email form…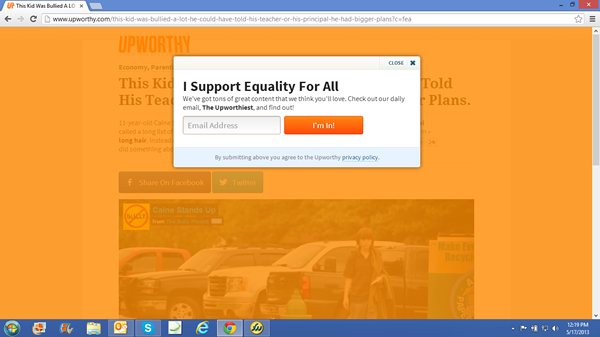 …you'll see above how they integrate this in with their optin process…
"I Support Equality For All" –
…a nice affirmation to put the person in a good mood followed by the hook…
"We've got tons of great content that we think you'll love. Check out our daily email, The Upworthiest, and find out!"
…if they close the window at this point OR enter their email address and optin in, then the light box closes and the user is shown the content page they've initially expressed interest in.
Very nice process indeed.
Now let's take a look at their actual content pages and see how focused they are…
Actual Content Page ->
Here's what a content page actually looks like and keep in mind how focused this is.
It presents the visitor with very few options after viewing the content, other than to help drive their social media campaigns and spread that content socially (and at the same time capturing that visitor as a social media follower)…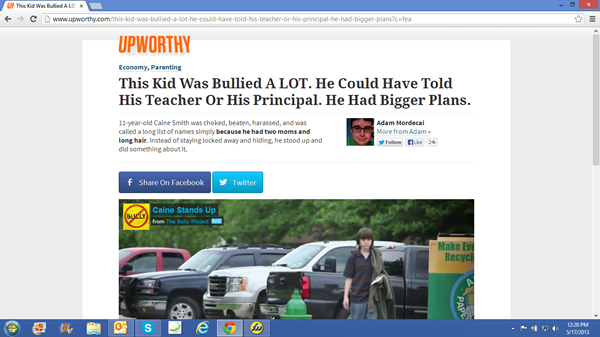 …you'll notice there is a headline, followed by a brief explanation of the content. Short and sweet and this is the format they're using right throughout all their content pages.
Right above the primary content, there are two sharing buttons, one for FaceBook and one for Twitter. You don't see a share bar with 100 different social media sharing options (I mean who really uses those "other" social media sharing sites anyway).
It's Facebook, Twitter, or nothing.
Now here's something even cooler, if you mouse over the content (which in this screenshot happens to be a video) you'll notice that Facebook and Twitter Share buttons appear floating on the left hand side of the video.
These appear and disappear depending on whether the visitor is interacting with the content…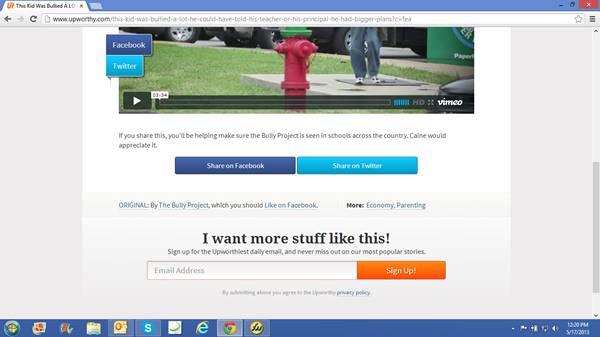 …and now look directly below the actual content.
You'll see the FaceBook and Twitter sharing optins yet again, followed by the email optin box that was also found on the bottom of the home page (and is carried right throughout the entire site in this position). This is a prime position for a call to action because it's a critical stop point for a visitor, so it makes sense to use this for lead capture if you can.
Other than a few other minor links (read that as pathways leading visitors away from their main goal of lead capture), there are not many other options a visitor can do on this page.
There are not a ton of links to other content.
There are not a ton of outbound links to ads.
Ultimately, they want the visitor to either optin via email, and/or share the content on Facebook (in which case they also get the optin and a follower) or twitter.
Extremely focused stuff to build a massive following and drive home more viral social media activity too.
There are also a few other things going on here as well, so it would pay to check out their website and investigate it more thoroughly for yourself.
For example, also on a content page, there is another time delayed popup which appears that asks the visitor if they like the content, and if so to share it on Facebook.
Now and then you might also see an alert message show up bottom right hand side of the page that also does the same thing (although sometimes it also shows other content within the website).
All in all however, this website is designed to do two things and two things alone, capture leads building an audience, and encourage social media sharing on the two most popular social media websites.
And boy, it certainly does a very focused bang up job of that. Very cool stuff.
~~~~~~~~~~~~~~~~~~~~~~~~~~~~~~~~~~~~~~~~~~~~~~~~~~~~~~~~~~~~
Article By Duncan Carver: Brought to you in association with Submit Edge – Giving comprehensive information on how Social Media Marketing can be used to maintain a good online reputation – Click Here Now For More Details
~~~~~~~~~~~~~~~~~~~~~~~~~~~~~~~~~~~~~~~~~~~~~~~~~~~~~~~~~~~~